High-Quality Garment Offers for Cleanrooms Workers
It is essential to ensure that everything you use in the cleanroom will be of the best quality, from technical solutions to footwear, to achieve the hygiene specifications. Regarding cleanroom garments, you should choose specialized clothing with great responsibility, as it can effectively reduce the spread of unwanted particles and environmental pollution if worn correctly and adequately.
Our partner Micronclean has over 35 years of experience making comfortable, high-quality, and durable garments for cleanrooms. During these years, it became the preferred supplier of cleanroom products for our specialists.
The New Cleanroom Autoclavable Goggles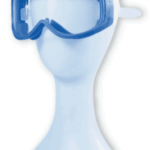 These CE-certified autoclavable "VisionGuard" goggles are specifically designed for use in the cleanroom. Goggles are individually packed in the autoclave bag, allowing you to sterilize them up to 40 times without degradation.
The lightweight design gives a wide angle of view and increases wearer comfort as it is coupled with a broad, easily adjustable strap. They are also compatible with most prescription glasses.
Wide Selection of SureGuard Coveralls
We offer a wide selection of single-use "SureGuard" coveralls for those looking for reliable anti-pollution solutions. All overalls are certified according to their requirements.
The special coveralls with hood and zipper are latex-free, antistatic, and elasticated at the wrists, ankles, and hood. The outside of the garment is hard to pierce, covered with polyethylene film. They are available in both sterile (double-pack) and non-sterile packaging. Available in sizes from S to XXL. Each pack contains 25 pieces of individually packed units.
Coveralls with integral hood, front zip closure, and feet are sterilized by gamma irradiation and packaged in polythene bags. Available in sizes from S to XXL, each pack also contains 25 pieces of individually packed units.
If you want to evaluate the material or size fit of the coverall, get in touch with our products specialist. We will assist and send you samples or answer all the questions to ensure you are satisfied with your decision.
Cleanroom shoes ToffeIn for Protection and Comfort​
For those who value comfort, we offer antistatic ToffeIn shoes made from a high-tech S2 material that is stronger than leather, highly resistant, durable, waterproof, and breathable. Shoes are washable and have a non-slip sole for added safety. Ergonomically designed shoes allow feet to spread naturally and have a safety toe cap to prevent toes from being pinched.
ToffeIn shoes are non-sterile. Available in sizes from 35 to 44 (EU).
Want to find out what solutions will meet all your requirements? Contact our products specialists for individual consultation on garments for cleanrooms. The professional team is ready to provide you with comprehensive assistance in choosing the best cleanroom solutions that meet all your needs.